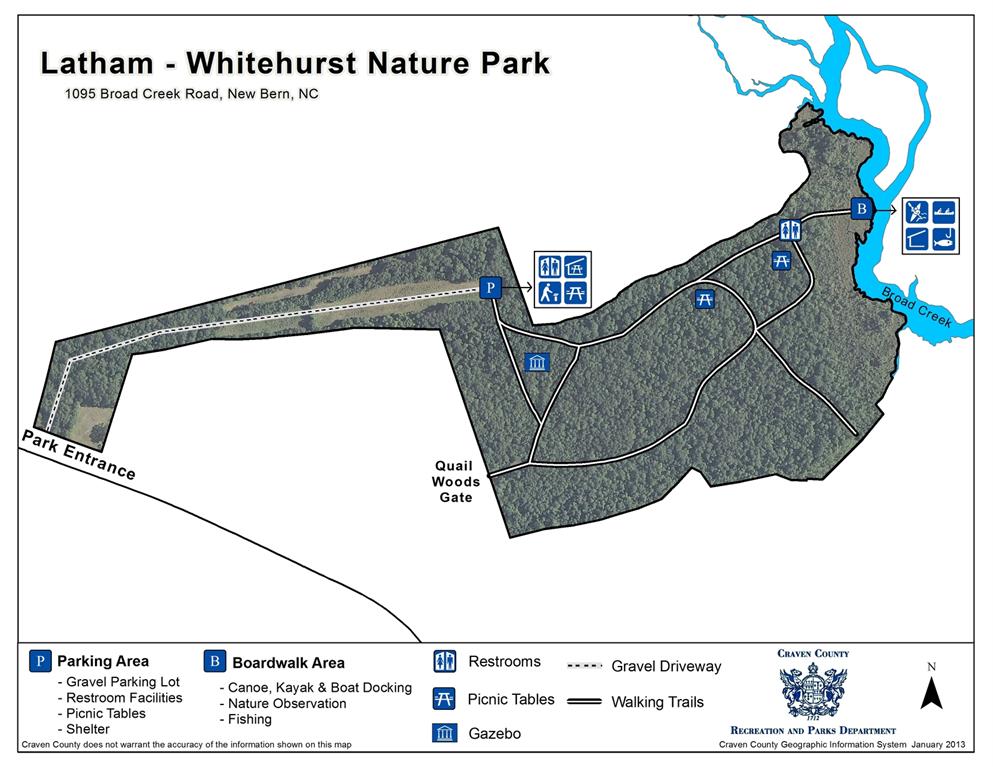 (click picture to enlarge)
1095 Broad Creek Road, New Bern, NC 28560
Craven County's Latham-Whitehurst Nature Park opened in 2011 and is comprised of 133 acres of preserved pristine coastal land. This is Craven County's first nature park, which is geared towards the natural environment, as it will offer hiking, nature observation, bird watching and access to Broad Creek by way of a boardwalk, approximately one mile north from Lee's Landing. If you would like more information to reserve the picnic shelter, click on the Shelter Reservations tab.
The Latham-Whitehurst Nature Park has several different walking trails ranging in size from .16 mile to .8 mile. These trails can be walked individually or combined with other trails for a longer walk. All trails are color coded for simplicity.
Boardwalk
The Nature Park boasts a 2,000 ft. dock overlooking Broad Creek. This dock has three major components that include an observation area, fishing section and a canoe/kayak launch. Also, signage is located along the dock that highlights the wildlife and native plants.
Restroom Facilities
We offer two restroom facilities at the Nature Park for your convenience. The first restroom facility is located at the entrance into the park and the second restroom facility is located along the gravel trail, close to the waterfront.
Picnic Shelter, Gazebo and Tables
The Nature Park has a picnic shelter at the entrance of the park that is available for small parties and groups. Along all the trails, you will find picnic tables and benches for your convenience. About midway down the gravel trail, you will also find a gazebo with tables for small functions.