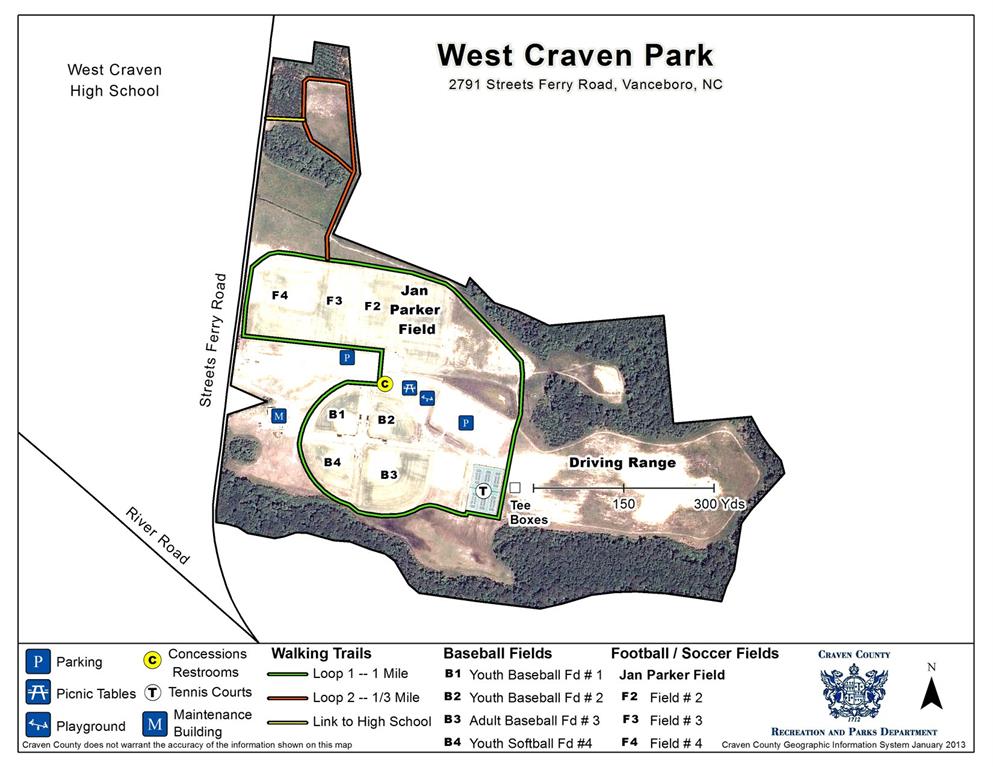 (click picture to enlarge)
2791 Streets Ferry Road, Vanceboro, NC 28586
West Craven Park was developed with assistance from a $500,000 State Parks and Recreation Trust Fund Grant and was dedicated on April 25, 2009. It is comprised of 90 acres and its sandy soil makes this park an attractive location for tournaments, since the quick drainage allows the athletic fields to be playable after a heavy rain. Also, it is located across the street from West Craven High School, making it a great addition for recreation opportunities to the citizens of western Craven County. The park will be open daily from 8:00 a.m. to dusk, with the park staying open longer for scheduled games and practices. Groups wishing to make reservations for the tennis courts or athletic fields are asked to call the Craven County Recreation & Parks Department at (252) 636-6606. If you would like more information to reserve the Bate Picnic Shelter, visit the Shelter Reservations page.
Featured below are a variety of recreational opportunities for people of all ages, including three youth baseball fields and one older baseball/softball field, 4 multipurpose fields primarily used for football and soccer. A playground designed for children ages 5-12 accompanies a picnic shelter. Towards the back are 6 tennis courts, sand golf range and walking trail.
Baseball and Softball Fields
West Craven Park has three youth baseball fields and one older youth/adult baseball field. The three youth fields host the Twin Rivers Little League and tournaments based on interest. The older youth field is for overflow practices, tournaments and occasional Craven Community College baseball games. Two of the three youth fields have lights.
Football Fields
West Craven Park has four full-size football/soccer fields. These fields host practices and games for the West Craven Pop Warner League and the Craven Jaguars. These fields also host games for the Cove City Cougars. The West Craven Soccer program uses these facilities for practices. We also host lacrosse games based on interest at this site. One of the four fields has lights.
Shelter and Playground
Our most recent addition to West Craven Park is a picnic shelter, which sets adjacent the playground. The picnic shelter seats approximately 50 - 65 people, with 6 picnic tables a charcoal grill and water fountain.

Tennis Courts
West Craven Park has six full-size tennis courts. These courts host practices and games for the West Craven High School Tennis Team. All six tennis courts have lights.