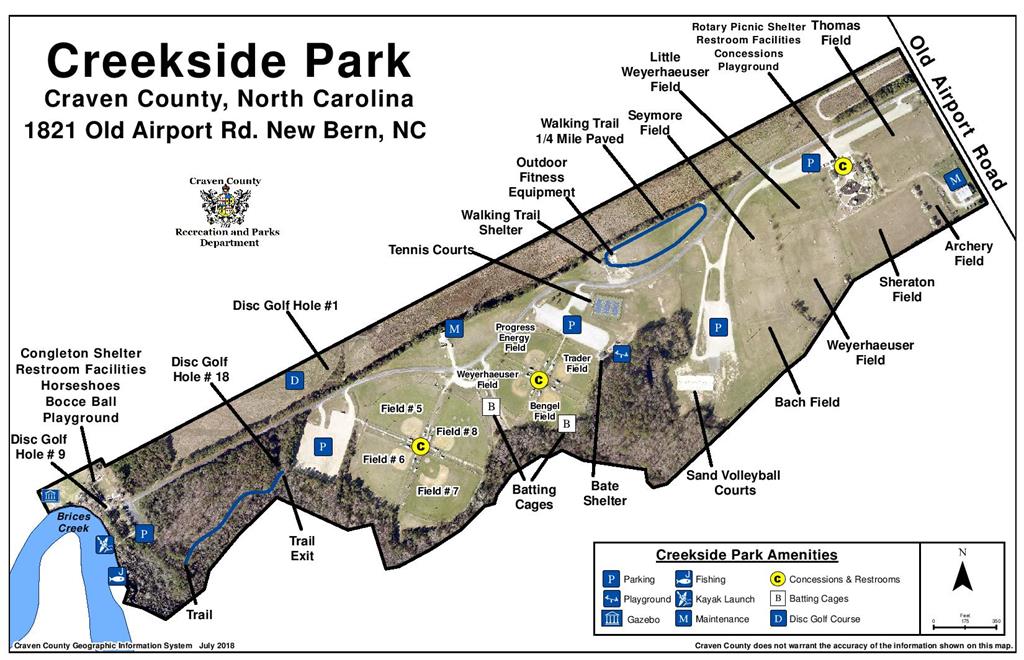 1821 Old Airport Road, New Bern, NC 28562
Creekside is our largest athletic park which is located on 111 acres adjacent to the Coastal Carolina Regional Airport. Opened in 1997, it has become the home of the New Bern Area Soccer Association, New Bern Babe Ruth Girls Softball, New Bern Sunday School Baseball, Special Needs Baseball, Adult Men's and Co-Ed Softball along with Adult Kickball.
Amenities
Creekside offers a variety of recreational opportunities for people of all ages including multiple athletic fields that are used for soccer, softball, baseball and football. Playgrounds designed for children ages 5 – 12 years of age, swings, sand volleyball courts, restrooms, picnic shelters and a walking trail. The waterfront area provides canoe and kayak access, playgrounds, gazebo, picnic shelter and walkways to Brice's Creek.
Shelters & Gazebo
Creekside offers three picnic shelters and a gazebo to rent for gatherings, such as birthday parties, family reunions, business or a family picnic. Reservations are not required, but are necessary for exclusive use. You can find more detailed information on any of these facilities, or to make a reservation by visiting the Shelter Reservations tab.
Playgrounds
There are three playgrounds at Creekside Park for kids of all ages. They are conveniently located adjacent to the shelters, youth ball fields and by the waterfront area, allowing kids to play while still being supervised at a safe distance. In 2016 we opened the inclusive playground near the Rotary shelter with an additional play area for children ages 2-5 and 6-11. This playground also offers a wide range of play components for children of various ages and abilities and includes a triple zip line, musical play area, and the Liberty wheelchair swing that is specifically designed for anyone from child to adult in a wheelchair. Other features include handicapped parking, wide sidewalks, and rubber surfacing for safety and ease of movement.
Soccer
Creekside Park has four full-size soccer fields with two of them having lights. Those four fields are broken down into different size fields that accommodate play for ages 4 to adult. The Coastal United Soccer Association calls Creekside home and they offer different levels of play for the area's youth. The amenities that support this area include an inclusive playground, restroom/concession building and Rotary Picnic shelter.
Sand Volleyball
Creekside Park is home to eight full-size sand volleyball courts that opened in 2013. These courts host junior and adult play and tournaments. This complex also has Epiphany and New Bern High School teams that train and play their home matches.
Outdoor Fitness Equipment and 1/4 Mile Walking Trail
This addition to Creekside Park, located within a 1/4 mile paved walking trail, is a five-station outdoor fitness equipment system. Thanks to our partners: The Harold H. Bate Foundation, Craven County Community Foundation, Carolina East Foundation and the Craven County Health Department for making this project a reality. This equipment is free and open to the public during park hours.
Tennis Courts
Creekside Park has three hardcourt tennis courts, located across from the walking trail. The courts were fitted with LED lights in 2020, allowing for play in the evening.
Youth Baseball and Softball
Creekside Park has four lighted youth ball fields with two designed for youth baseball and two for youth softball. The park is home to the New Bern Babe Ruth Girls Softball League and the Cal Ripken Baseball League. We also are host to the Special Needs Baseball League and have numerous travel baseball and softball teams that practice at Creekside. The Twin Rivers Little League also plays games at the site. The amenities that support this include batting cages, restroom/concession building and a playground designed for kids age 5 and under.
Adult Softball and Baseball
Creekside Park has a wheel of three adult softball fields and one older youth/adult baseball field. The three adult softball fields numbered 5, 6 & 8 are the location for Coed and Men's Softball Leagues for both spring and fall. These fields also host kickball leagues, softball tournaments, football practices and Senior Softball. Field 7 is the older youth/adult field and houses the Adult Baseball League, travel team practices and Epiphany Baseball. This field also has a number of youth football practices in the fall.
Disc Golf
Open in early 2014, this 18-hole disc golf course is 4,600 feet in length. A challenging course that has a variety of open and wooded holes. Three holes border Brices Creek, and provide for a nice back drop.








Waterfront
Creekside Park has a waterfront that borders Brice's Creek. The waterfront has a 200 ft. dock that has two areas to launch canoes and kayaks. Adjoining facilities at the waterfront are the Congleton Shelter, gazebo, playground and a walking trail. Creekside Park is the mid point from the Brice's Creek Canoe Trail, which is a 12 mile trail that begins at Lawson Creek and ends just past the Evans Mill subdivision.