Announcements & News
Beginner Sand Volleyball
Craven County Recreation & Parks is offering a beginner sand volleyball program at Creekside Park. Learn the fundamentals of beach volleyball! For athletes who aspire to learn more about the game, we deliver a high energy and encouraging learning environment with total volleyball skill development. We focus on position specific training, fundamentals, & teamwork!
The program will be offered July 14-16 from 8:30 am-11:30 am. Cost is $75. To register, click on the programs tab. For more information, contact us at 252-636-6606.

See you on the sand!
Everyone Loves P.E. Camp Session Two
In accordance with NCDHHS guidelines, Craven County Recreation and Parks is excited to offer a second session of Everyone Loves P. E. Camp this summer for ages 6-12! This camp will give your child an opportunity to get out in the sun, interact with others, and participate in a wide variety of P.E. games and activities.
Camp Instructors, Jason Philipps and Megan Davis, are excited to return for another week of camp! Everyone Loves P.E Camp will take place at Creekside Park.
Camp hours will be 8:30am - 11:30am (Monday - Thursday). Friday will serve as a make up day in the event of rain or inclement weather
.
Registration will open Wednesday, July 1 and will run through Friday, July 31. Camp will begin on Monday, August 3 and run through Thursday, August 6. For more information, please contact Andrew Kendall at (252) 636-6606.
Summer Tennis Camp
Craven County Recreation and Parks is excited to offer Tennis Camp this year for children aged 9 through 12. Come learn the basics of tennis or improve your game. Camp will be held at Creekside Park from 8:30 until 11:30 Monday through Friday. Session 1 will begin Monday, June 29, and Session 2 will begin Monday, July 6th.

Campers will need athletic shoes and clothing, and a water bottle. All tennis equipment will be provided, but campers may bring their own racquet if they would like.


In accordance with state and local regulations regarding COVID-19, we will be taking precautions to prevent the spread of disease before, during, and after camp. Anyone with symptoms of COVID-19 or who may have been exposed to COVID-19 should not attend c
amp.
Playground Brick Campaign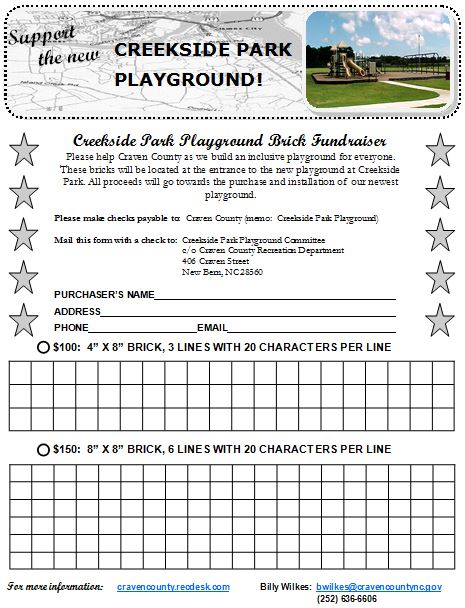 Craven County Recreation & Parks Department is excited to announce that we completed the playground project at Creekside Park. We continue to make improvements to existing areas of the park to make Creekside Park an even better place for all of Craven County's citizens to enjoy. You can purchase a brick in memory or in honor of someone or just to support park improvements. Bricks are displayed near the flag pole in front of the new playground. For more information, contact Billy Wilkes at (252) 636-6606, ext. 5 or email
bwilkes@cravencountync.gov
.