Announcements & News
2019-2020 Vanceboro Youth Basketball
Registration is open for the Vanceboro Youth Basketball League. You may register online, at the Craven County Recreation offices, or at Vanceboro Town Hall. The last day to register for the Vanceboro Youth Basketball league is Wednesday, November 27. You may also register at the skills evaluations on December 3, 4 and 5.
The league is for boys ages 7-15 and girls ages 7-14. Every player will receive a t-shirt and trophy. Games will be played every Saturday at Vanceboro Farm Life Elementary School, West New Bern Recreation Center, or Havelock Recreation Center. For questions, contact Andrew Kendall at (252) 636-6606 or akendall@cravencountync.gov.
Playground Brick Campaign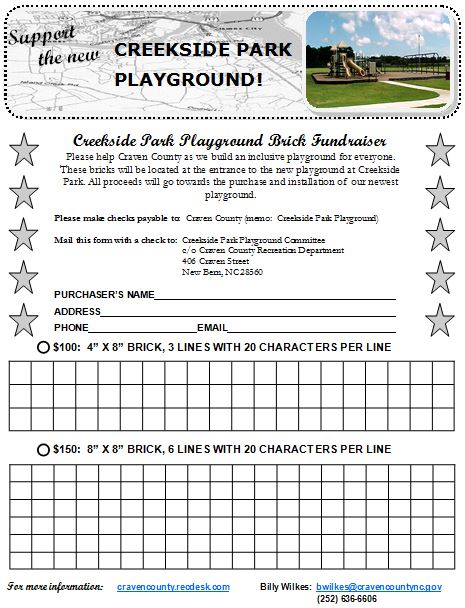 Craven County Recreation & Parks Department is excited to announce that we completed the playground project at Creekside Park. We continue to make improvements to existing areas of the park to make Creekside Park an even better place for all of Craven County's citizens to enjoy. You can purchase a brick in memory or in honor of someone or just to support park improvements. Bricks are displayed near the flag pole in front of the new playground. For more information, contact Billy Wilkes at (252) 636-6606, ext. 5 or email
bwilkes@cravencountync.gov
.